Car ECU is a small device in your vehicle's body, its proper functioning is vital. So,ensuring that it is not damaged makes you a confident driver and provides safety. As soon as you learn that something is wrong, you should start thinking about the best solution.  How should I know if it is not working properly? Which one is most recommended – replacing, repairing or, programming? What are the best DIY tools that are used for reprogramming? I'm sure those are the questions that come to your mind.
Keep on reading to get to know more about the electronic control unit. Learn what is it and how does it function. Get answers to the most important questions.
What is car ECU?
ECU automotive is a general term used to refer to an automotive electronics module. It is responsible for controlling different functions in the vehicle. ECU is responsible not only for power but it controls the information exchange and proper functioning of each component. It also manages safety systems. The use of the term auto ECU may refer to the Engine control unit. To perform even on a basic level, it has to incorporate 4 different areas of operation: input, processing, output, power, and management.
Main functions of ECU – explained 
It is the central controller and heart of the engine management system. Hence, it controls the fuel supply, air management, fuel injection and, ignition. ECU does more than just motor management, it controls turbochargers, transmission in automatic gearboxes, headlamp and lightning functions, Airbag deployment, and cruise control functions.
Faulty ECU – General symptoms and proper  diagnostics 
Certain indicators suggest that your car's brain does not work properly. For example:
Your check engine light is on
Your auto won't start
Poor motor performance
Poor fuel consumption 
 It does not matter whether your vehicle has a  problem with its ECU unit or the motor itself, fixing the problem is the solution. In order to determine if there are any faults in the system firstly you can use an OBD Scanner that will scan the system and give you the full details about the error message and possible causes. If this doesn't solve the issue you can already refer to the technician. Technician will conduct the full analysis of your vehicle.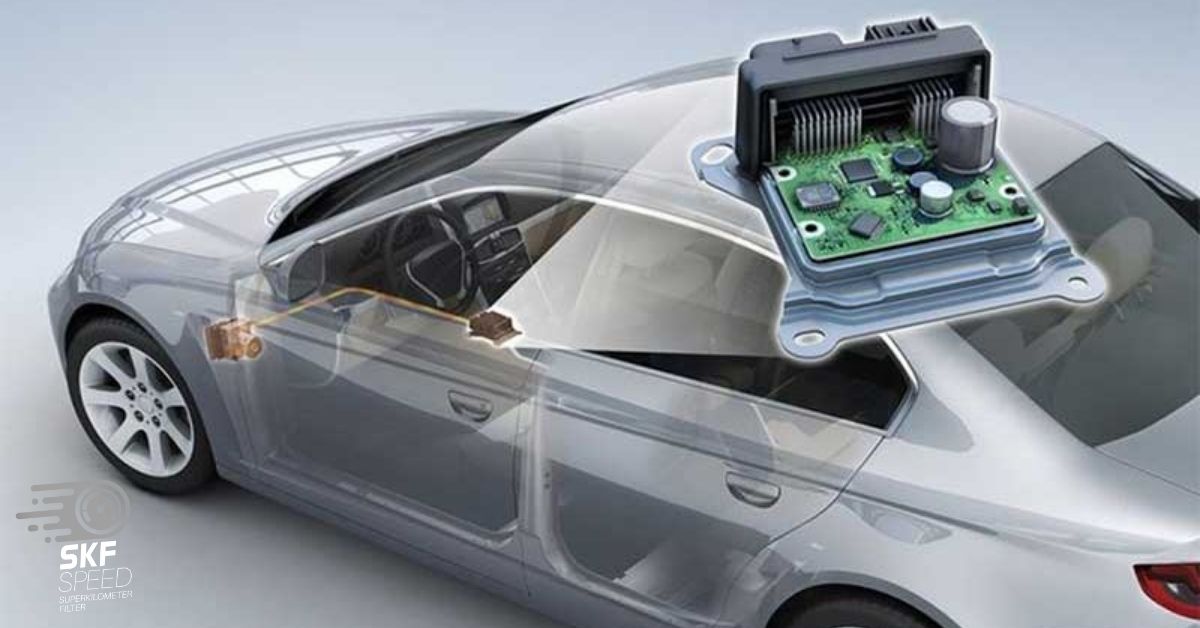 How to replace, repair or reprogram ECU?
Let's start with repairing. Firstly, make sure that a qualified professional does this job. It is an advanced piece of technology and requests highly precise and detailed electronic work. The cost depends on the make, model, and year of your automobile.
 Purchasing a car ECU in addition to replacement cost can be in the realm of thousands of dollars. 
Reprogramming the car's software is one of the most popular among car enthusiasts who would like to boost their vehicle's capabilities and improve overall performance.
The best tuning and diagnostic devices available
At Super Kilometer Filter we offer a wide range of tools. They allow you not only reprogramming but also complete checkup of your auto. 
Sprinter speed limiter removal
Sprinter speed limiter/removal-  a DIY tool that will allow you to reprogram the vehicle on your own, without visiting any technician or service center. As a result you enjoy the unrestricted speed of the vehicle. It refers to reprogramming the ECU. Moreover, It allows you to remove any speed restrictions or apply a new limiter.
OBD Scanner Launch CR319
OBD Scanner Launch is specifically designed for all vehicles that support OBD2  connections. This is a unique engine code reader that can read diagnostic trouble codes (DTCs) and search in the inbuilt library for definitions of DTCs that affect the automobile.  This is a perfect option for DIYers who would like to perform a complete checkup of their cars.
LUFI XF Revolution
 LUFI XF Revolution is a portable module that will allow you to display the speed and other measurement units in real-time. This head-up display supports warning functions like water temperature warning, over-speed alarm, shifting reminder, vehicle malfunction warning for safe and secure driving. We offer a premium-quality module that displays multi-data and gives you much more control over your car. The installation is easy, just plug in the OBD socket and get a crystal clear LCD display with multiple measurement figures.
Is it legal to reset the Electronic control unit?
Although you are allowed to modify the ECU automotive in your vehicle, there are legal limitations and restrictions to this in most places. Most of the illegal modifications are those that affect the emissions and overall performance of the automobile. Any changes should be in agreement with the law of your country.
Takeaway
Thus, you know what is auto ECU, what is the general function and how to care for it properly. If you are a mindful driver who would like to cure ECU unit failure, there are certain solutions for you to consider. Mind the importance of this issue for proper car care.